Seagate is proud of our personnel
Our team represents some the most experienced managers, engineers and accountants in the Bay Area and we enjoy excellent tenant, vendor, community and client relations. Seagate brings a unique owner's viewpoint to property management in that we are commercial property owners and we view every assignment from the perspective of an owner and not just a third party for profit property management firm. Our number one priority is to do what is right for the property and its owners and not necessarily what will be the most profitable for the managers.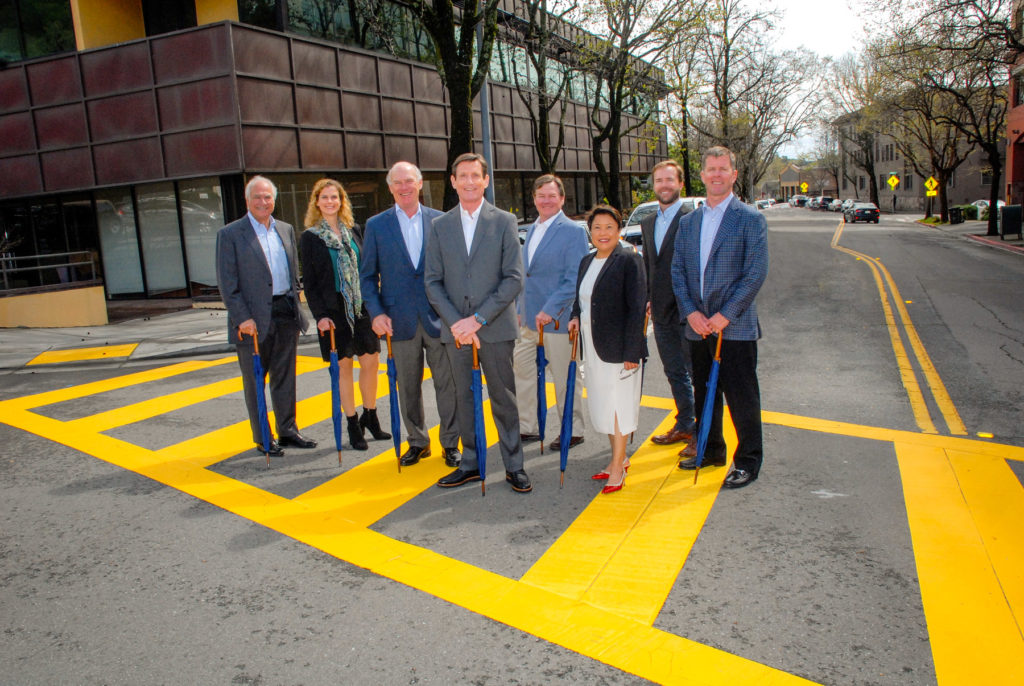 Josh Durrenberger
Property Manager
Josh joined Seagate in 2019 during the acquisition of The Harbors office project in Sausalito. He brings over 20 years of experience in commercial real estate and engineering. Josh is a creative problem solver with a variety of trade experience. Having previously worked as an engineer in numerous facilities, including Class-A properties, Academic, and Mid-Rise buildings, he also served as project manager for many tenant and capital improvements.

More About Josh...
Josh received his California Real Estate Salesperson licenses in 2017, shortly after he was promoted to Property Manager for The Harbors. He and his wife lived in New York City for five years before relocating to the Bay Area in 2004. Originally from PA, Josh enjoys traveling and hiking, especially to his favorite locations in Hawaii and Montana.
Josh Dion
Assistant Property Manager
Josh joined the Seagate team in 2020 to assist the property managers with the North Bay retail and office projects. He brings over 16 years of professional experience in real estate and hospitality having managed teams and site operations in hotel, multi-family and mixed-use properties across Northern California and Boston.

More About Josh...
He has worked for top firms such as Kimpton, Equity Residential, Pinnacle and Bozzuto. Josh holds a BS in Hospitality Management & Business from San Jose State University. In his free time he enjoys hiking with his family, experimenting in the culinary arts, reading consumer product reviews and tinkering with his A/V gadgets.
DENNIS FISCO
Principal
Dennis has been a Principal with Seagate Properties, Inc. since the expansion of the San Francisco office in 1984. Dennis has primary responsibility for all legal consultation and the oversight of Seagate's administration, asset management, receivership and accounting functions.  He has extensive experience in all aspects of the operation and re-development of real estate having been involved in the development or re-development of over $1.0B in commercial real estate projects including LEED certified developments.
Prior to joining Seagate, Dennis was President of Flexible Pipe Company in…
More About Dennis...
…Houston, Texas, an underground utility contractor specializing in industrial and municipal utility systems.
Dennis graduated from Case Western Reserve University (1977) with a BA in Political Philosophy and he holds a JD degree from Cleveland Marshall College of Law (1979).  He is a licensed attorney and an active member of the State Bars in Ohio, Texas, Colorado, and California. Dennis is a licensed California Real Estate Broker, a former Councilman and two-term Mayor of the City of Mill Valley, California. He was appointed Mill Valley Citizen of the Year in 2006. Dennis is also a member of the Mill Valley Tennis Club, where he is a former two-term President and Honorary Member.  He is also a member of the Association for Corporate Growth and Lambda Alpha International, as well as a variety of professional and civic organizations and boards.  Dennis is a founding and current Board member of the Sweetwater Café and Music Hall, an emeritus member of the Board of the Mount Tamalpais School, and is a member of Hawken School's Board Visiting Committee.
Elizabeth "Libby" Franson
Property Manager
Libby joined Seagate in 2018 and brings over 25 years-experience in commercial and residential real estate, including retail, office, multi-family and a houseboat marina. She is currently Property Manager for the North Bay portfolio which includes retail and office projects.

More About Libby...
Libby graduated summa cum laude with a Bachelor of Science degree in Business Administration from California State University in Fresno, California. She has been a licensed California Real Estate Salesperson since 2016.
JEFF GLADIEUX
Chief Engineer
Jeff joined the Seagate team in 2012 as Chief Engineer at 400 Howard Street in San Francisco. A 3rd generation stationary engineer, Jeff has enjoyed a 20+ year career. He enjoys spending his free time as Treasurer for Stationary Engineers Local 39 as well as vacationing on the lake, boating with his family and friends.
Evan Gorder
Acquisition Associate/Analyst
Evan joined the team in 2021 as Seagate's acquisition analyst. He is a graduate of the California Polytechnic State University – San Luis Obispo and the University of Wisconsin – Madison with an MBA from the James A Graaskamp Center for Real Estate. Evan brings 9 years of real estate experience including the acquisition and repositioning of residential properties in Milwaukee Wisconsin all for his own account and is a licensed California Real Estate Broker.
More About Evan...
In addition, he spent several years with the California Department of Housing & Community Development in Sacramento working on affordable housing developments and managing and implementing climate change programs impacting the State of California.
TRENT ISGRIG
Principal
Trent joined Seagate in 1998 and is the Colorado partner responsible for all acquisition and disposition activities along the Front Range. Trent has more than 22 years of commercial real estate experience, including acquisition, disposition, finance, underwriting, and asset management. Since opening the Colorado office in 2011, Trent has led…
More About Trent...
… Seagate in the acquisition of more than 3,500 units of multi-family housing in Colorado.
Prior to joining Seagate, Trent was a financial analyst at Prentiss Properties, Inc. where he also held property management positions. During his 20+ year career, Trent has been involved in the acquisition and disposition of multi-family, office, industrial, and retail properties located throughout the Western United States. The total value of transactions exceeds $1B dollars.
Trent was awarded a B.A. degree in Political Science from the University of Michigan.
Bonnie Kalbrosky
General Manager
Bonnie joined Seagate in 2019 and has over 25 years of experience managing Class A high-rise office buildings in San Francisco. Her position as General Manager – San Francisco has her overseeing management of a portfolio that includes two buildings that are 95+ years old. Her main focus is 400 Howard Street, a fully occupied Class A office building occupied by a major global investment management corporation.

More About Bonnie...
Bonnie has been a licensed California Real Estate Salesperson since 1996. She is active in BOMA, acting as Chairperson for the Emergency Preparedness Committee for the past four years, and she was recently recognized as BOMA-SF's Principal Member of the Year for 2019. Bonnie is originally from New York and holds a Bachelor of Arts degree from the University at Albany, NY.
Brian Lanphear
Property Accountant
Brian joined the team in 2020 to assist the ever growing Seagate asset accountant management needs. He has 30 nearly years of Lease/Accounting experience representing third parties, tenants and landlords. Prior to joining Seagate, Brian spent 15 years in the real estate market, primarily focused on non-profit, retail and commercial sectors.

More About Brian...
Prior to joining Seagate, Brian spent 15 years in the real estate market, primarily focused on non-profit, retail and commercial sectors.
Mike Kamm
Principal
Mike joined Seagate in 2019 as a Principal and has responsibility for office and industrial acquisitions in Northern California and other western markets. Mike came to Seagate after 33 years in the commercial real estate services sector, most recently as Regional Managing Principal of Cushman and Wakefield's Northwest Region.
More About Mike...
In this position Mike oversaw the leasing, capital markets, property and project management and valuation business lines from San Francisco to Denver and up through Seattle. Prior to that Mike was President of Cassidy Turley Commercial Real Estate Services, a firm he helped to launch. At Cassidy Turley, Mike had P&L responsibility for all business lines, nationally. Mike served on Cassidy Turley's Board of Directors and its Capital Committee and was actively involved in the sale of the firm to Texas Pacific Group (TPG). Ultimately Cassidy was merged in with DTZ and Cushman and Wakefield. Prior to Cassidy Turley, Mike was CEO of Northern California brokerage firm BT Commercial where he grew the firm t over 250 brokers. Mike engineered the sale of the firm to Cassidy Turley. Mike began his real estate career as an industrial broker in Oakland, California with Coldwell Banker Commercial (CBRE).
Mike graduated from The Colorado College with a BA in Political Science. Mike is an active member or the Urban Land Institute – UDMUC Bronze Council, NAIOP, Lambda Alpha International.
Mike enjoys skiing powder runs in the Rockies, cycling in West Marin and scuba diving in the South Pacific.
Johnny Ligon
Controller
Johnny joined Seagate in 2019 as corporate controller. Prior to joining Seagate, he spent 3 years in accounting management at Dewberry Group, a real estate development company headquartered in Atlanta, GA. Johnny started his career as an Internal Revenue Agent with the Internal Revenue Service (IRS) and also spent time working for several public accounting firms.

More About Johnny...
Johnny received a B.S. in Accounting from The University of Alabama and a M.S. in Accounting from Georgia State University.
Chase Mendoza
Controller
Chase joined Seagate in 2021. Prior to joining Seagate, Chase served as Accounting Manager at Stockbridge Capital Group, a real estate investment management firm, where he was responsible for accounting and investor reporting for various joint ventures, separate accounts, and an open-end fund. Chase began his career with Ernst & Young, LLP where he worked in the San Diego and San Francisco Assurance practices with a primary focus in real estate and consumer products.

More About Chase...
Chase received a Bachelor of Accountancy from The University of San Diego and holds an active CPA license in California. Chase enjoys camping in the great outdoors and international travel. Some of his favorite experiences have been studying abroad in Spain, exploring the Greek islands, and visiting the fjords of Norway.
Neil Morgan
Property Manager
Neil originally joined Seagate as manager of the Silicon Valley portfolio in 2009. In 2012, Neil relocated with his wife to the East Coast and subsequently managed 1.8M square feet of office and retail in Manhattan. Since returning to California in 2018, Neil resumed his duties as regional manager of Seagate's properties in the South Bay and Silicon Valley.
More About Neil...
Prior to Seagate, he managed multiple commercial and residential development projects on the West Coast for his family's development company. Neil has extensive experience managing operation of all types of real estate assets across multiple markets and specializes in real estate operations, finance, accounting and construction project management. Neil is a graduate of the University of California at San Diego with a degree in Economics.
KATIE MURRAY
Office Manager
Katie joined Seagate in 2002. With over 23 years experience in executive administration roles, Katie is an integral and essential member of the Seagate management team, and typically your first point of contact and friendly voice heard on the phone. She helps ensure everyone stays organized, the office runs smoothly, and tasks are completed in a timely manner. Her excellent organizational…

More About Katie...

…and communication skills along with attention to detail keeps the office energized and running efficiently.
Katie enjoys spending her free time with family and friends as well as traveling, hiking, cooking and reading.
BARBARA PEELER
Property Accountant
Since joining Seagate in 2008, Barbara supports the daily accounting operations for several key Seagate assets in San Rafael. Prior to joining Seagate, Barbara was Administrator of a large residential real estate office in southern California, responsible for over 200 real estate agents and staff.
Barbara holds a Salesperson license with the California Department of…

More About Barbara...

…Real Estate since 1988.

KIM POLITE
Property Manager
Kim joined the Seagate team in 2005 and has held numerous positions within the company. She currently manages our East Bay portfolio which includes office, retail and residential properties. Kim has spent quality time in our San Francisco, San Rafael, San Jose, and Berkeley offices, giving her a broad knowledge of the entire portfolio.

More About Kim...

Kim has her Bachelor of Arts degree in Communications from Dominican University of California.

MARK POLITE
Principal
Mark joined Seagate in 1997 to augment its expansion into additional property types in various Western US markets. His responsibilities include acquisition, redevelopment, repositioning and reseal of office, industrial and multi-family properties. He has primary responsibility for overseeing all value-add renovations and asset management services for Seagate's multi-family portfolio. Prior to joining Seagate,…
More about Mark...
Mark spent 13 years as Vice President of the Investment Properties Group of CB Commercial Real Estate (CBRE) in San Francisco. During his career, Mark has been actively involved in the acquisition, renovation, repositioning, marketing and disposition of office, industrial, retail and multi-family properties valued at over $1B.
Mark also served on the Citizen's Advisory Committee regarding the relocation of the Transbay Transportation Terminal in San Francisco. Mark earned a Bachelor of Arts in political science from Colorado College.
WILLIS ("Wick") K. POLITE, JR.
Principal
Wick has been associated with Seagate Investment Co. and its affiliate companies, since 1980. He has been responsible for all acquisition and development for the company initially from the Cleveland office. He has been a general partner since 1984, at which time he was responsible for the relocation of the headquarters office to San Francisco California. Wick is primarily responsible for all acquisition and…
More About Wick...
…disposition of property for the firm with expertise in the financing, transaction structure, and general development of investment quality commercial real estate. Previous projects have included rezoning, master planning, subdividing, development and subsequent sale of commercial properties in Florida, Ohio, Arizona and California.
Prior to 1981 Wick was associated with Deerfield Corporation involved in the sales and marketing field as an independent manufacturer's representative. In his capacity with Deerfield he was responsible for major national accounts including Goodyear Tire, Firestone Corp, and Sherwin Williams Paints, among others.
Wick has been a member of the Urban Land Institute since 1981, serving as a Governor of the Urban Land Foundation, a variety of ULI council's as well as active participation in the local San Francisco Bay Area District Council. He is a member of Lambda Alpha International, as well as serving on various school and community boards. Wick performed his undergraduate and graduate studies at Case Western Reserve University in Cleveland, Ohio majoring in economics, psychology and finance.
ANGELA RIORDAN
Leasing Director
Angela has been serving as Seagate's leasing administrator since 2006, preparing lease documents, new leases, renewals, expansions, subleases, assignments, consents, expirations and terminations for a majority of the Seagate property portfolio. With an eagle eye for detail, she enjoys lending her marketing ideas, and is instrumental in providing daily support to all facets…
More About Angela...

…of the organization. Prior to joining Seagate, Angela worked 8 years in the high-tech industry and was awarded a Bachelor's of Science, with a concentration in Business from Virginia Tech. Angela has been a licensed California Real Estate Salesperson since 2008.
SEAN RIORDAN
Network Engineer
Sean has been serving all of Seagate's Internet and technology needs since 2003. As a certified Network Engineer, Sean brings over 20 years of IT management experience, recommending and implementing the maintenance and administration of servers, desktop computers, printers, routers, switches, firewalls, phones, smart phones, personal digital assistants as well as a vast array of additional technologies…
More About Sean...

…inclusive of both hardware and software. Sean provides a breadth of technical knowledge and the ability to learn the intricacies of new networking and server software packages quickly, enabling Seagate to stay current and operate efficiently and seamlessly. Sean was awarded a B.A. from St. Mary's College and a M.A. from Catholic University.
Joe Rusbarsky
Chief Operating Officer
Joe joined Seagate in 2019 to transition its business into fund management. As Chief Operating Officer of Seagate Realty Advisors, LLC ("SRA"), his responsibilities include defining the structure of Funds and Separately Managed Accounts (SMA) for both programmatic and fully discretionary investing, seek committed capital from investors, act as a voting member of SRA's Investment Committee and oversee the operational aspects of SRA's management of both Funds and SMAs.

More About Joe...
Prior to joining Seagate, Joe served as a Commissioned Officer in the US Army Corps of Engineers, including as a military aide in the Reagan White House. After the Army, he worked in strategy consulting, product development, business development and operational roles for 29 years for some of the leading investment management firms in the United States, including Capital Guardian, Oppenheimer Capital and PIMCO. His most recent role was Managing Director for a leading mortgage investment firm.
Joe graduated from the United States Military Academy at West Point (1983) with a BS in Nuclear Physics and from the Harvard Graduate School of Business Administration (1990) with an MBA. He holds the designation of Chartered Financial Analyst ("CFA") from the CFA Institute and has served on various school and community boards.
Nick Swatek
Property Accountant
Nick joined the Seagate team in 2019 bringing over twelve years of real estate accounting experience ranging from construction to home ownership associations to property management. He received his Master of Science in Accountancy from the University of North Carolina – Greensboro. Nick is a 20-year veteran of the United States Air Force having served in both Europe and Asia. He has traveled the world and enjoys walking the woodlands of Marin in his free time.

More About Nick...
Nick is a 20-year veteran of the United States Air Force having served in both Europe and Asia. He has traveled the world and enjoys walking the woodlands of Marin in his free time.
Jeff Urbanski
Asset Manager
Jeff joined Seagate in 2017 as the Asset Manager of the Colorado multifamily portfolio. Jeff brings over 10 years of redevelopment, underwriting, and asset management experience. Prior to joining Seagate, Jeff worked at Essex Property Trust where he was responsible for identifying and underwriting value-add redevelopment opportunities as well as creating and managing asset plans.
More About Jeff...
Jeff earned a degree in Commercial Real Estate from Marquette University and received his M.B.A. from the James A. Graaskamp Center for Real Estate at the University of Wisconsin, Madison. He is an active member of the Urban Land Institute and Wisconsin Real Estate Alumni Association.
INGRID VAN KOPPEN
Property Accountant
Ingrid has been part of Seagate's accounting team since 1992 and she is involved in all aspects of the accounting process including cash flow planning, monthly financial reporting to Investor Partners, and coordination of the annual budgeting process, for several of Seagate's investment properties. Prior to joining Seagate, Ingrid worked in the accounting departments of…
More About Ingrid...
… RREEF, and Hogland, Bogart & Bertero, both real estate investment and property management firms in the San Francisco Bay Area. Ingrid earned her Bachelor's degree in Business Economics from the University of California at Santa Barbara.
Shay Williams
Property Manager
Shay joined Seagate in 2016 with their acquisition of The Atrium in San Mateo. She has been involved in the real estate industry for over 20 years with experience managing diverse projects of commercial high rise and low rise office buildings, retail buildings, industrial R & D parks and a 420 slip boat marina. Shay is currently Treasurer for the Association of Commercial Real Estate Managers.
LAURA WILLIAMS
Property Manager
Laura brings over 18 years experience in business administration and management, customer service, research and recruitment. Having joined the Seagate team in 2014, Laura manages our 90-unit Sausalito project. A reassuring and positive presence for all tenants and visitors, Laura negotiates and resolves all tenant/building issues, handles and

More About Laura...

enforces leases, along with maintaining the project's security. Laura's accuracy and skillful communication keeps tenants, vendors and contractors happy. Laura is a native of San Francisco and enjoys spending her free time with family and friends.

Ann Yavorsky
Investor Relations
Ann joined Seagate in 2019 to enhance the firm's investor relationship efforts, with a particular focus on acquiring and enhancing databases that use accounting, investment and property management information to improve investor service and reporting. Prior to joining Seagate, Ann held both property management and office management positions at several Bay Area firms.
Seagate is comprised of five principals who provide institutional, pension, and separate account clients', with real estate management expertise. Each principal has demonstrated experience in attaining under-performing assets, restructuring partnerships and portfolios, and in generating best results where leasing, management, renovation, restructuring, and other quantifiable risks can be managed to the investor's or client's benefit with the priority of significantly improving cash distributions and investment values. We place a high priority on direct principal involvement and highly personalized attention for our clients and tenants, by taking a hands-on approach where two or more of our principals are directly involved with every investment.
Contact us today to learn how we can help you manage your investment needs.